This is probably one of dozens of other "Things to Do in LA" lists you've stumbled across while planning your trip, but believe me when I say that you'll be glad you came across my page. Here's why: It's compiled by a California travel expert (me) with more than 20 years of experience who has lived in Los Angeles as well as visited it hundreds of times. Hundreds, folks. I've seen Los Angeles change into the green juice loving, eccentric city it is today.
My guide started with a list of the most popular destinations based on tourism data, but it doesn't stop there. We also asked our readers to vote for their favorite things to do and all that went into the final list, which is like you asking all of your friends with different tastes and preferences about their favorite places to go in LA and things to do while there.
Chill Out on Catalina Island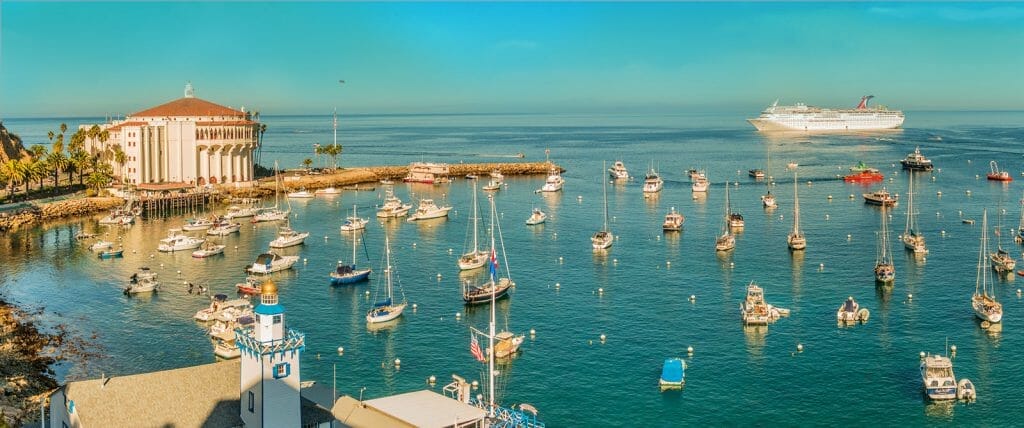 If you want a taste of the Mediterranean in southern California, head just off the shore of the city. You'll technically still be in Los Angeles County, but you'll feel as if you've stepped onto the coast of Greece when you visit Catalina Island,
Things are different on Catalina, and especially in the town of Avalon, where most visitors go. You'll see fish fly and people driving golf carts instead of cars, but that's only the start.
The real charm of the island is in its unpretentious, laid-back ambiance, enough to get you chilled out in no time. The island is worthy of a full, week-long vacation if you have the days off; if not, a weekend escape provides plenty of distractions, too.
The only downside? You have to get on a ferry boat to get there, and if you get more excited by city lights than by the sight of a buffalo in the wild, this quiet escape may not be for you.
Spend a Day at Disneyland
OK, we know Disneyland is technically in Orange County, but it's still a top destination for Los Angeles visitors.
Disneyland earns a spot on this list for its cleanliness, friendly employees, and overall fun factor. Unlike other area theme parks, the park doesn't have extra-fee attractions that raise your costs—and it doesn't charge for a line-busting FastPass, either. It's also sentimental: The Anaheim-based theme park is the original, the one baby-boomers grew up yearning to visit.
You can wear a funny hat all day and not feel silly about it. Its landscape is engineered to keep anything outside from intruding on your experience. 
Disneyland is a place
 where you can just enjoy being a kid with your kids.
Walt Disney wanted to create a place where parents and kids could do things together, and Disneyland offers plenty of chances to do just that. Most rides are on the gentler side, and you'll also find shows, parades, and daily fireworks in summer. And if you don't want to do any of that, just take a kid or two and watch them have fun.
Next door to Disneyland is California Adventure, a separate Disney park with a growing collection of rides based on animated films. Downtown Disney, a shopping, dining and entertainment area is next door.
A few downsides to keep in mind: lines can be long, tickets pricey, and people who like extreme thrill rides may find the park too tame.
Drive the Malibu Coast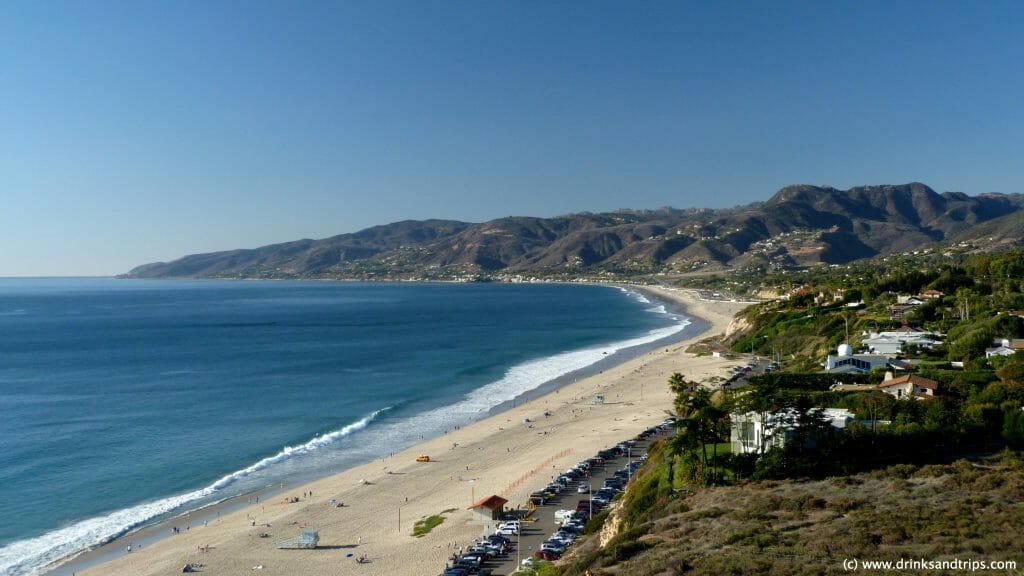 West of the city of Santa Monica, the beaches run east and west, creating a beautiful setting and making for some great surfing when conditions allow. Since the days of beach-blanket movies and Beach Boys songs, Malibu has exemplified Southern California beach culture.
From a visitor's perspective, the Malibu coastline is too scenic for its own good—you'll spend more time than you want to driving past the backs of houses that face the beach.
Go far enough north and you'll begin to see what all the fuss is about.
You can take in all of the scenery when you drive from Santa Monica to Oxford in just a few hours during the Malibu coast drive. Or, make a day of it and get your fill of Greek and Roman antiquities in a villa taken right out of the pages of history at the Getty Villa.
Say Hello to Hollywood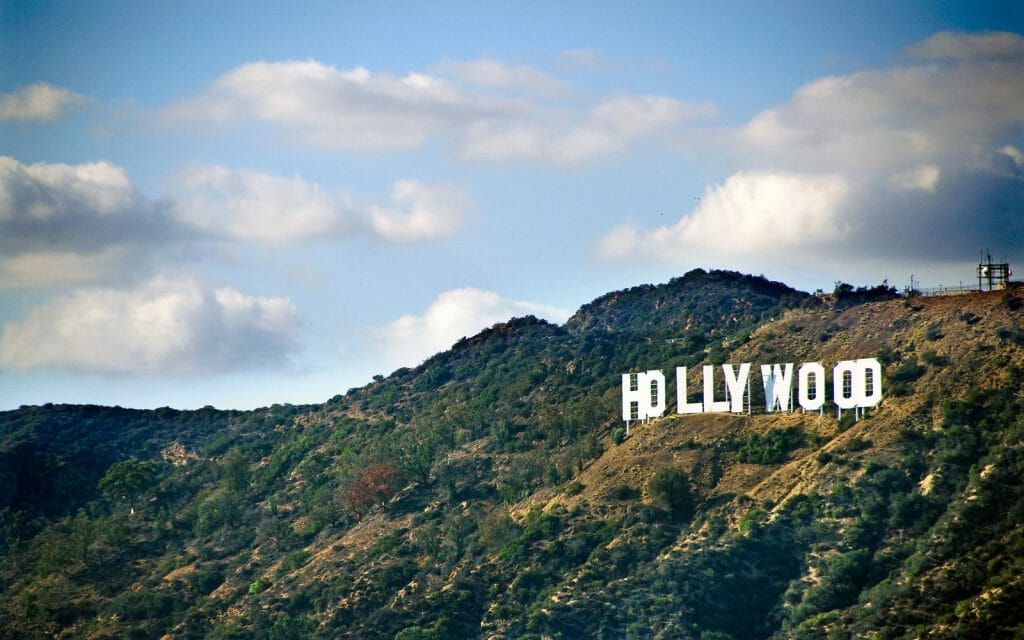 Don't let outdated guides tell you that Hollywood is dirty and run-down. For the most part, that's a thing of the past. That doesn't mean it isn't crowded and sometimes tacky-touristy, though.
Hollywood is more of a state of mind than a real place. In Los Angeles, much of the hype centers on Hollywood Boulevard, around its intersection with Highland Boulevard. Ever since Sid Grauman built his first movie houses near there and started asking his friends to imprint their hands and feet in wet cement outside his Chinese Theatre, it's been the site of a film fan frenzy.
Along the boulevard, you'll find the Walk of Fame, a series of stars embedded in the sidewalk, celebrating hundreds of folks' achievements in film, television, and music. Celebrity impersonators prowl the sidewalk, posing for photos with the passers-by (for a small tip), and everyone seems to want to check out the hand and footprints at the Chinese Theatre. If you're lucky, you might even happen by when there's a footprint ceremony, star ceremony, or movie premiere going on.
There's more to Hollywood than just the boulevard. Nearby you'll find the Hollywood Bowl (the best place for a summer concert), Paramount Studios, the Hollywood Heritage Museum (birthplace of the film industry), and a bunch of other sights. You'll find them all on this driving tour.
See Sunset Strip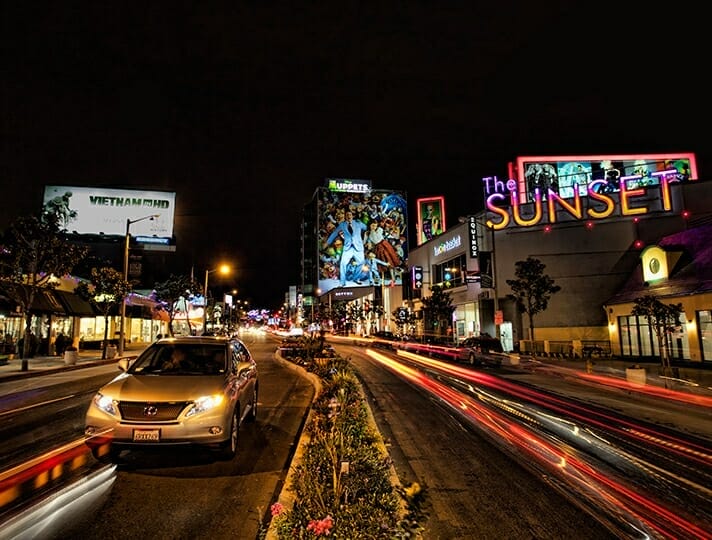 Sunset Boulevard runs from downtown Los Angeles to the Pacific Ocean through some of Los Angeles' most exclusive neighborhoods. Its most famous stretch is probably the Sunset Strip, a section whose sexy curves make it a visual icon, lined with nightclubs and emblematic billboards.
During the day, this area is mostly quiet except for folks shopping, dining and wanting to be seen at Sunset Plaza. At night, it's illuminated by neon lights, an easy place to club-hop without driving around, and the sidewalks are full of party-goers.
The Sunset Strip runs through West Hollywood between Crescent Heights and Doheny Drive, on the north side of the Los Angeles Metro area. It's northwest of downtown and northeast of Beverly Hills.
Learn about hours, how to get tickets, admission discounts, how to get there and the best time to go with this complete guide to Sunset Strip.